Just click the pictures below to learn more and book, or click here

Description of Surrounding Area
As recommended by Lonely Planet
We are situated near the Nusa Dua region in Mumbul (a good half an hour from crazy Denpasar but only 15 minutes from the airport. You are close to the best seafood around on Jimbaran Beach (10 minute drive), superb winter surfing on Geger beach, stunning surf and beaches at Bali Cliff, Uluwatu and Dreamlands, which are all within half an hour drive and you have Kuta and Seminyak that are 15 minutes away if you want some Bali nightlife.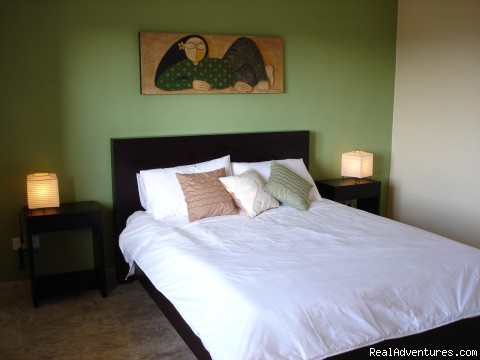 Description of Accommodations
We have eight double bedrooms, 7 of which have their own private balconies, 5 of which have stunning views over Benoa Bay and all have en-suite bathrooms. In your room you will have a DVD/CD player and TV with access to our library of DVD's, a fridge, and Ipod facilities upon request. You will also have free access to the internet and drivers available on request, plus anything else we can do to help.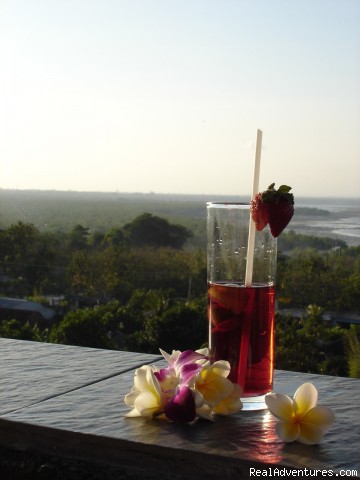 Description of Rooms/Suites
All our bedrooms have double beds but a child's bed is available if notice is given in advance. Our bathrooms all have a bath and shower. The bedrooms have a dressing table and mirror, wardrobe, television cabinet and double bed.
Amenities
We have a restaurant and bar by the pool and a bar on the terrace. We offer Yoga and Yoga for surfers on the roof aswell as massages. Ipod facilities are available, as is access to the intenet. We also have a swimming pool and a large reading room with a balcony.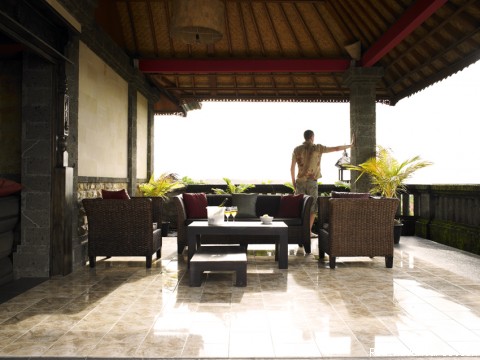 Services Offered
Room service is available if requested. We include a light breakfast in the price of the room but we have a further breakfast and lunch menu at additional cost. Our bars will run from lunchtime onwards. We will pick you up and drop you off to the airport free of charge.
Restrictions
Smoking is allowed on the balconies and in the bar and restaurant. No pets.
Discounts Offered
1 Day free if you book 14 days with us and please call for any promotional weekends.